Award-Winning Singer/Songwriter Announces 14th Album, Retro-Moderne
— Available Worldwide June 7th, 2019
Retro-Moderne Release Party
Including Pre-Release of CD & Vinyl
w/ Special Guest Dennis Ellsworth & DJ greybeard
Saturday, June 1st @ Rivoli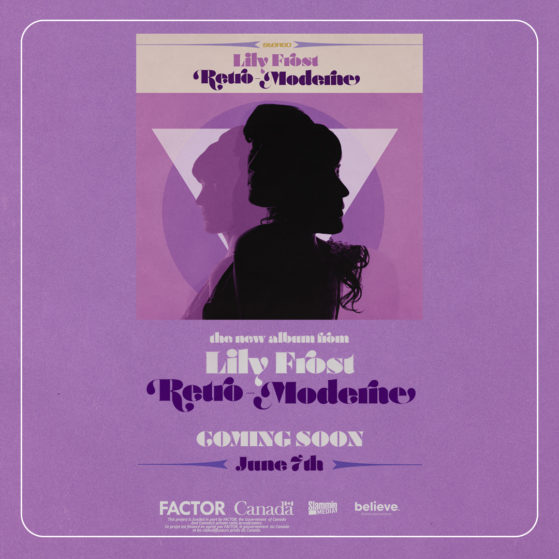 Preorder Retro-Moderne
Apple Music https://smarturl.it/retromam
Google Play https://smarturl.it/retromgp
Deezer https://smarturl.it/retromdz
I Dodged a Bullet Streaming Single available from
Tidal https://smarturl.it/idabt
Spotify https://smarturl.it/idabsp
Listen to Lily Frost on
Apple Music https://smarturl.it/lilyfrostam
Spotify https://smarturl.it/lilyfrostsp
Follow Lily Frost on
Facebook: https://smarturl.it/lilyfrostfb
Twitter: https://smarturl.it/lilyfrosttw
Instagram: https://smarturl.it/lilyfrostig
YouTube: https://smarturl.it/lilyfrostyt
TORONTO — May 21, 2019 — Canadian singer/songwriter Lily Frost presents her most focused and stylish work to date with her new album, Retro-Moderne — available live at Toronto's Rivoli on June 1 and digitally worldwide June 7th.
"We set out to make a retro-infused album with a fresh and current vibe," the award-winning, multi-talented, genre-defying dynamo of an artist reflects. "Gus and I both love 60s mod music and we grew up at the same time in Montreal when mod, ska, and punk subcultures were part of the underground scene we played.
"We also love current trends in fashion and art."
By 'Gus' she means Gus Van Go (The Stills, Whitehorse, Jill Barber, Terra Lightfoot), whose pointed and precise production helped deliver a record that wastes little time living up to its name. "I am thrilled with the new record and to be working with Gus and his team. When you find the right team and chemistry, it falls into place.
"The results speak for themselves."
Retro-Moderne dives deep into a specific sound space, with a girl group-style back up befitting Dusty Springfield, twangy Quentin Tarantino-style spaghetti western guitars, and a dash of Latin hot sauce for added spit and vinegar, edge and attitude.
It's within these 11 tracks that Frost weaves her tale and spins her tales of badass lovers and bullets dodged, transcending the listener in a way only Frost can, all while elevating her storied career to new creative heights.
Track "Reckless Corazón" ignites as a musical telenovela, detailing a woman torn between her head and her heart as she falls for the "bad boy" while "Dud" shines a light on life as a tongue-in-cheek, dark-dimmed commentary about a man who can't follow through. Nichol Robertson appears in a heart-melting duet on "Wild is the Wind" and again on Sonny Bono's "Bang Bang." "Rainbow Glasses" and "Dud" were co-written with Frost's former bandmate Chad Horton, while "Nickel and Dime (Cruel World)" — a mod pop to dubstep sonic journey about style under pressure and mod mentality — was written with Slakah the Beatchild.
"I Dodged A Bullet" goes full 'girl group' with twang, and "Rock Me Baby" stands out as a languid 50s-ish dream pop ballad which intimately brings a long-distance love affair together in blissful embrace.
"Songwriting is the way I process life," she shares. "It is my outlet, my anchor, and my voice."
A darling of the Canadian lounge scene, and an original of the Montreal lounge/punk scene, Frost quickly gained traction worldwide with a series of songs synched on the likes of Grey's Anatomy, Crazy/Beautiful, Workin' Moms, Charmed, Felicity, Degrassi and more. She has been featured in promotions for Chevy Cobalt, and her work on the theme song and score for Being Erica received a Gemini Award nomination.
She comes by her insightful and unique artistic perspective honestly; raised a 'born again' Christian, Frost left home at 18, determinedly curious what an alternate life would look like, beginning with university in Montreal. Meeting artists, writers, travellers and thinkers, she dipped her toe into the worlds of foreign film, philosophy, erotica, love, and travel, she never turned back. It's that collective wealth of experience and imagination that continue to lead her to explore and report back through her lyrics.
Lily Frost's band is comprised of Jay and Jessie Baird (Feist, Steven Page), Eric St. Laurent, Dan Miller, and Soli Joy, and features special guests such as Nichol Robertson and Lindsay Fitzsimmons.
Retro-Moderne is available digitally worldwide from Slammin Media through Believe Digital June 7th, 2019 and on CD and vinyl off stage at her June 1 album release party and from Slammin Media through Propagande in local stores and online at Amazon.
For more information, please contact: