JAYMZ BEE WINTER TIKI PARTY @ HUGH'S ROOM LIVE
TUESDAY, MARCH 5 • DOORS 6PM MUSIC 8PM  •
$25 adv/$30 door (excludes taxes & fees)
2261 DUNDAS STREET WEST, TORONTO • 416.533.LIVE (5483) • hughsroomlive.com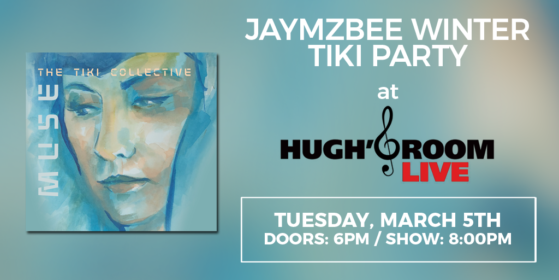 The Tiki Collective is a group of individuals who make music that is a blend of Exotica (Polynesian), Pop, Classical, Surf and Jazz. The Tiki Collective members are based in Toronto, Canada and have been performing together live since 2016. Their debut CD, Muse, has just been released and is available for listening and purchase now at http://smarturl.it/tcmuse.
This March, you won't find a better way to break up a Toronto winter than with this exceptional cast from The Tiki Collective and their presentation of tribute and original music that transports its audience right to the surf.
The line up for the evening is extraordinary –  hard to find better anywhere.
Vocalists:
Genevieve Marentette,  Heather Luckhart, Lily Frost, Jessica Lalonde, Paget Biscayne, Irene Torres, Jocelyn Barth, Denielle Bassels, John Finley, Jay Douglas, Jaymz Bee
Instrumentalists:
Eric St-Laurent (guitar), George Koller (bass) , Great Bob Scott (drums), Michael Davidson (vibes),  Bill McBurnie (flute)
The Tiki Collective is produced by Jaymz Bee and Jono Grant with executive producer, Lorenzo DiGianFelice.